DARK FOX RED LABRADOR PUPPIES
Save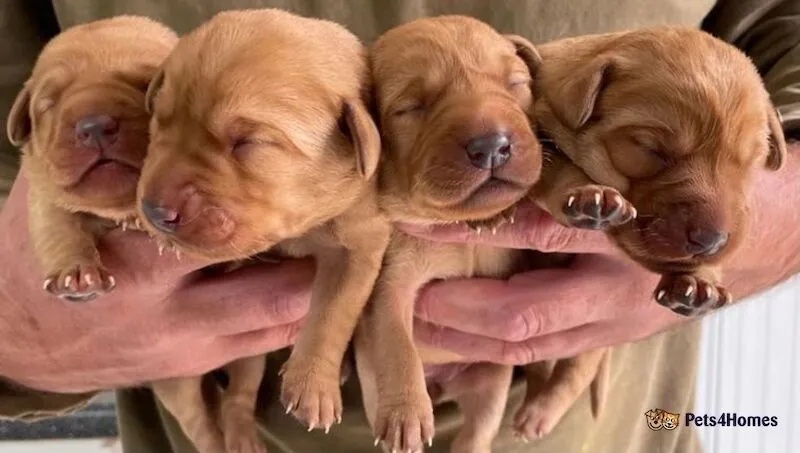 Details
Advert posted

4 weeks ago

Last updated

4 days ago

Breed

Labrador Retriever

Current age

5 weeks

Ready to leave

at 8 weeks (15th July 2022)

Seller type

Licenced Breeder

Advert views

693
Description
Partridgefen Gundogs are thrilled to announce the safe arrival of 8 dark Fox KC Reg Girls available. WE ARE 5 ⭐️ STAR COUNCIL LICENSED and vet inspected breeders so you can be sure your puppy has been brought up in the best possible environment.
Dad (FIREFIGHTER BEAN) his hip scores are the lowest in the country at 0/0 and elbows 0/0 also.
- CNM Clear,
- EIC Clear,
- HNPK Clear.
Mum - Our beautiful girl also has a brilliantly low hip score of 3/3 and is prcd-PRA CLEAR.
Both mum and dad are our dogs so an amazing advantage of our pups is that you can see both parents in person (not just through pictures) and socialise with them to get a feel for the the pups future personalities/temperament.
Mum is our fantastic, loyal working girl who is a medium build dog. Mum is an exceptional example of a Fox Red Labrador and has the most affectionate temperament. She has also been an amazing partner for me when picking up/working on various shoots.
Drake is our handsome hardworking dog with a fantastic 0/0 hip score.He
as an athletic/medium build much like the sturdy traditional type labs. He has a beautifully soft nature and is a complete gentleman. He also comes out with us picking up/working during shooting season and is the most amazing companion in the field.
Both of our dogs were extremely easy to train and have never let me down!
We have a large lake with a big stretch of land around it to keep our dogs fit and healthy throughout the summer months too.
Both parents are happy, healthy and hardworking. This litter has been bred with calm and intelligent personalities just like their parents. They will make excellent family pets or incredible working partners.
The pups will be extremely well socialised with the usual household noises and also small children. Pups will come with a puppy pack including -
- Puppy contract
- KC registration documents
- The puppy food they are currently on.
- Information sheet with worming and flea treatment schedule, quantity of food recommendations and a house training guide for you and pup.
- 5 generation pedigree
- First vaccination with vet check
We also promise a lifetime of help and advice after puppy leaves us.
Our puppies will have been wormed with panacur at the ages of 3-5-7 weeks for the treatment of roundworms, tapeworms lungworms and guardian. They will also be flead with frontline spray and will be microchipped.
Pups will be ready to leave at 8 weeks old (15th July) - holidays will be honoured.
We take puppy viewings from 5 weeks old - 24th June. If you would then like to secure a pup we ask for a non refundable deposit of £200. A receipt will be given and I will be sending weekly pupdates of your pup until they are ready to be taken to their forever homes.
£1,200