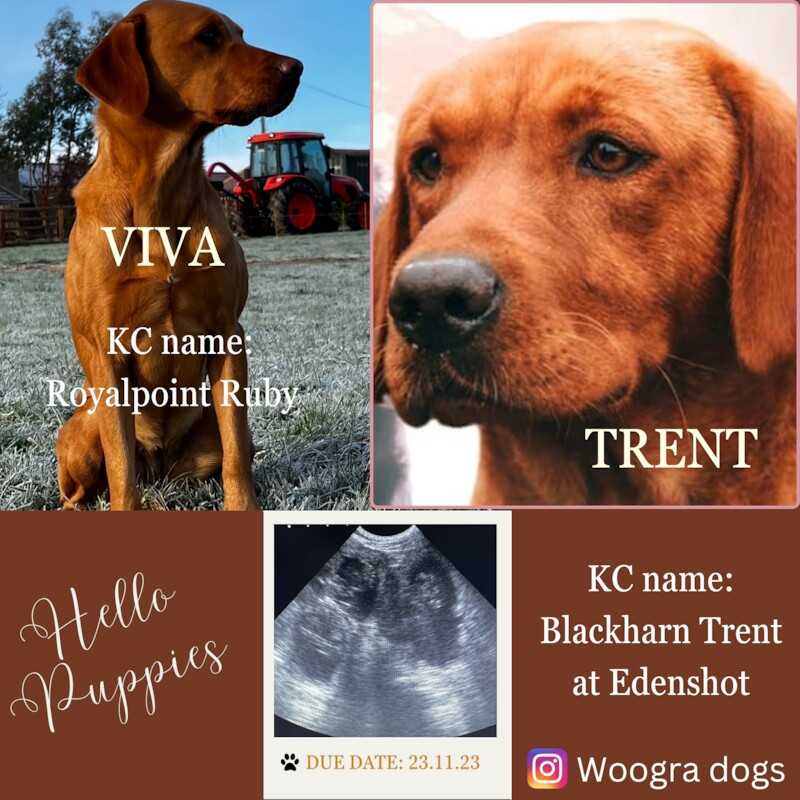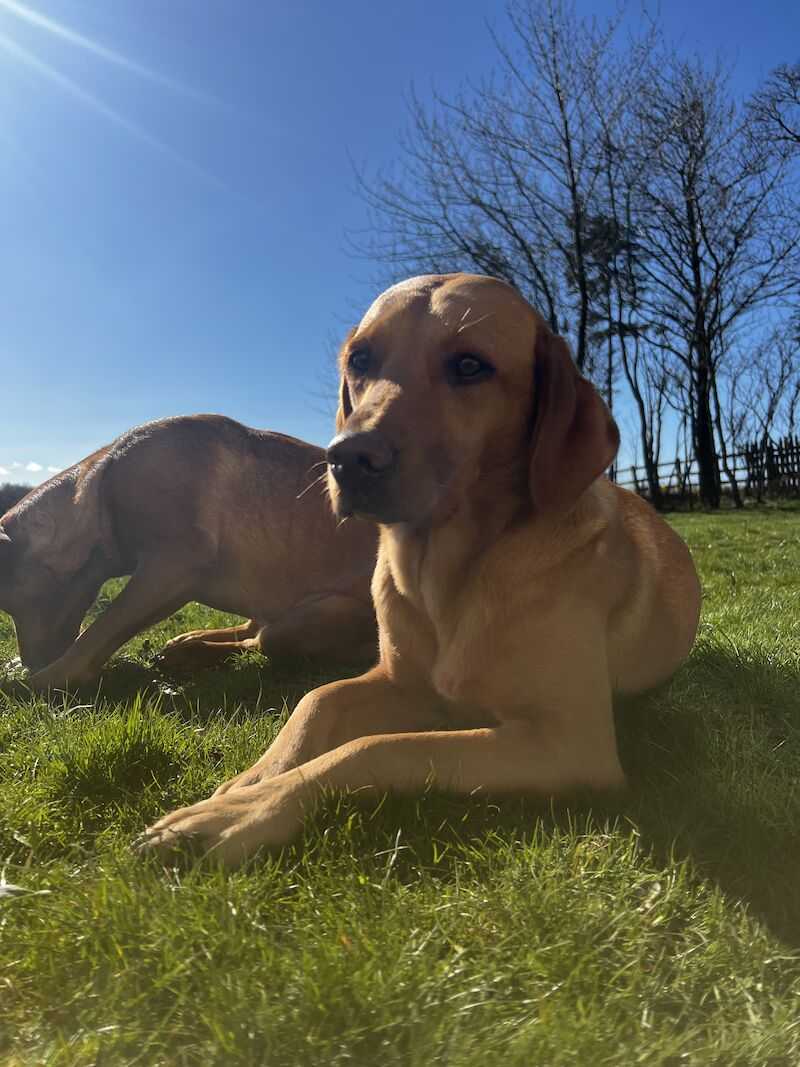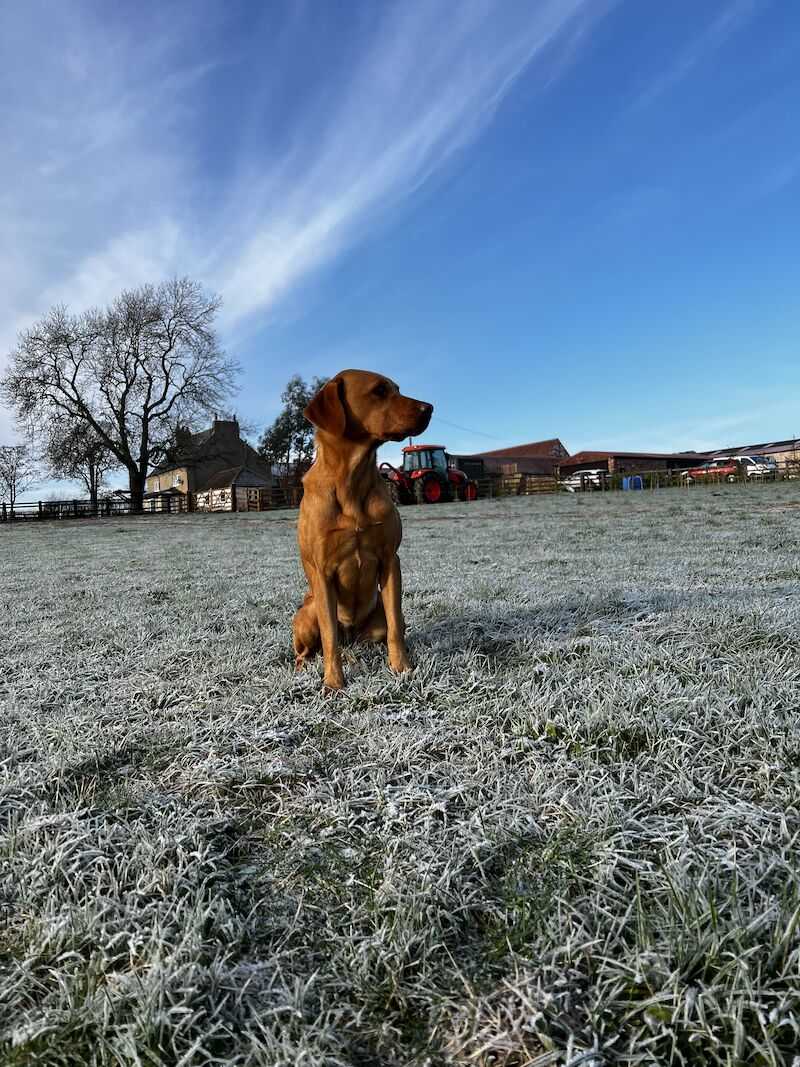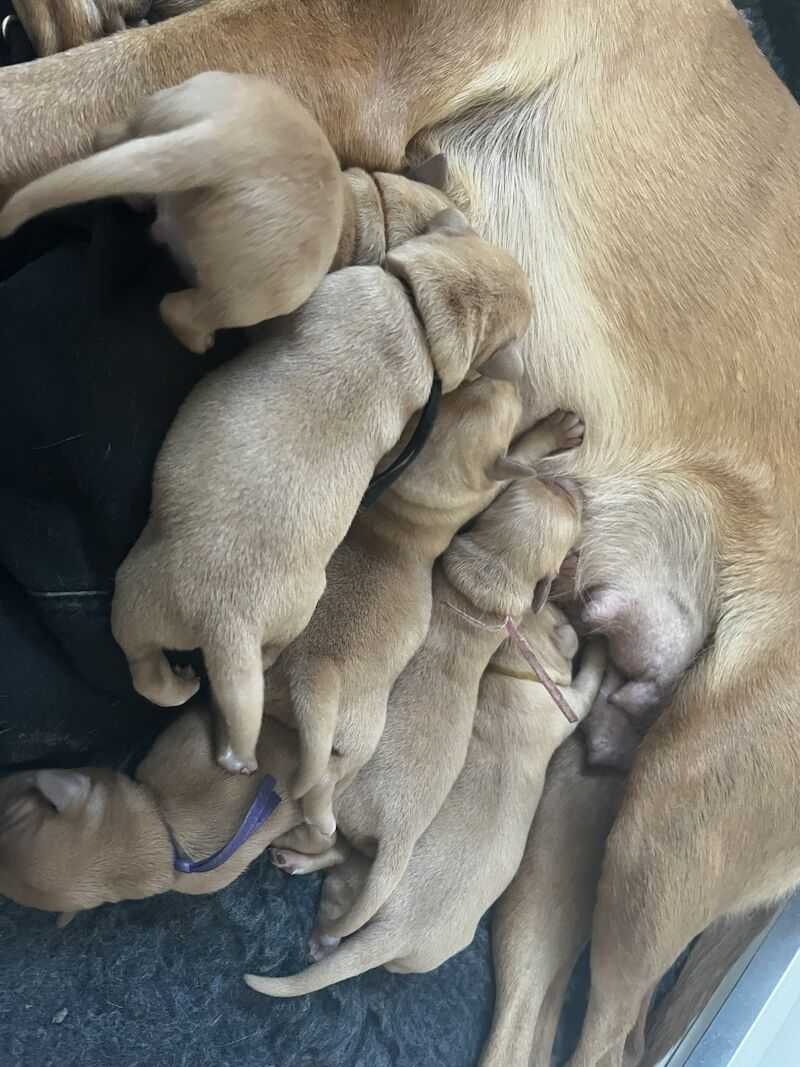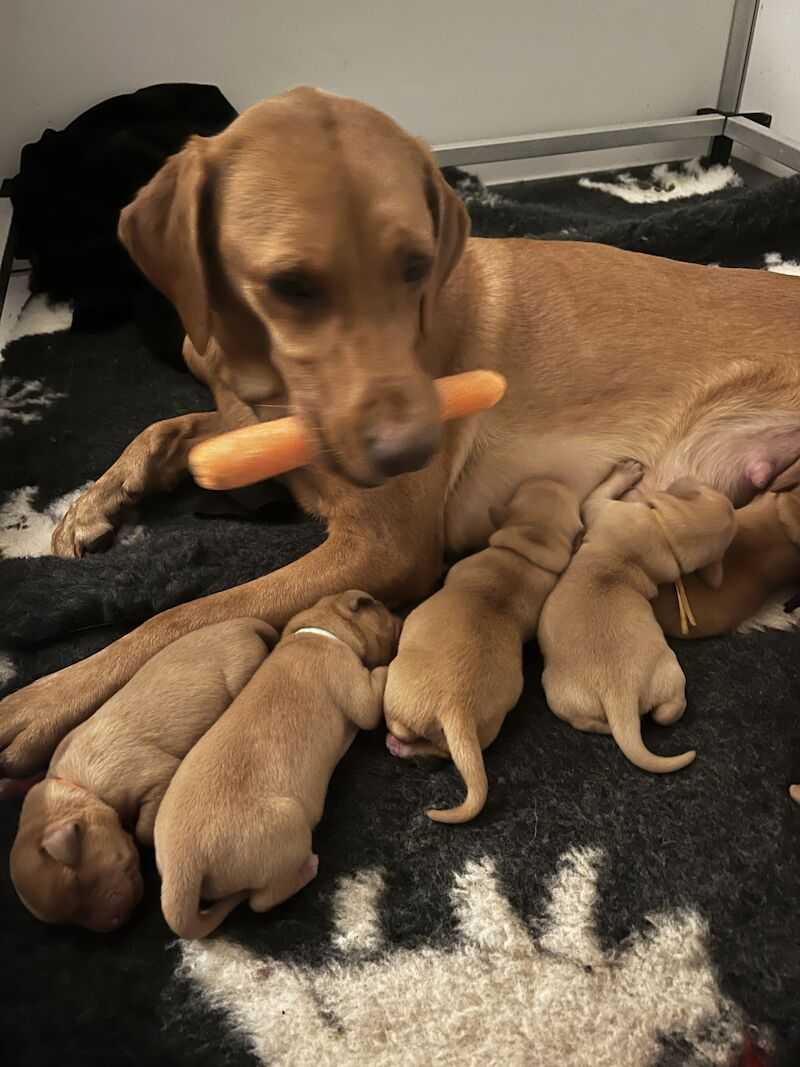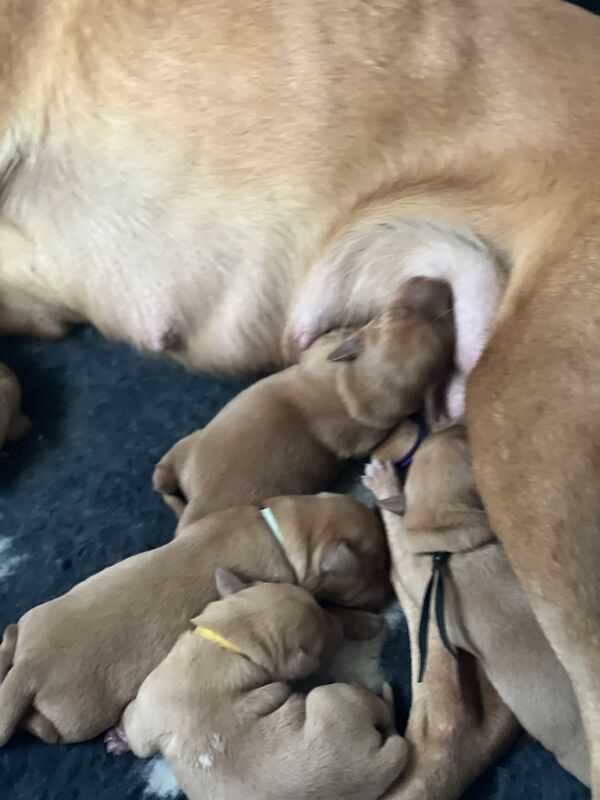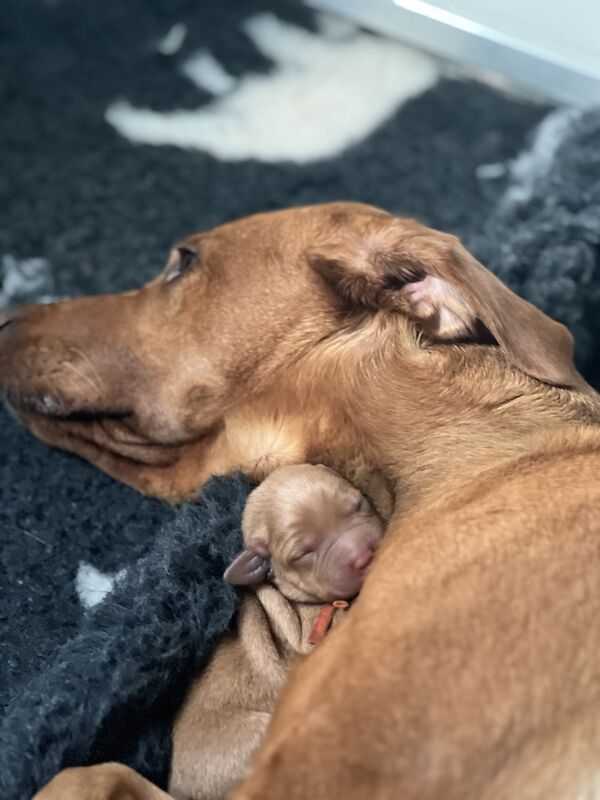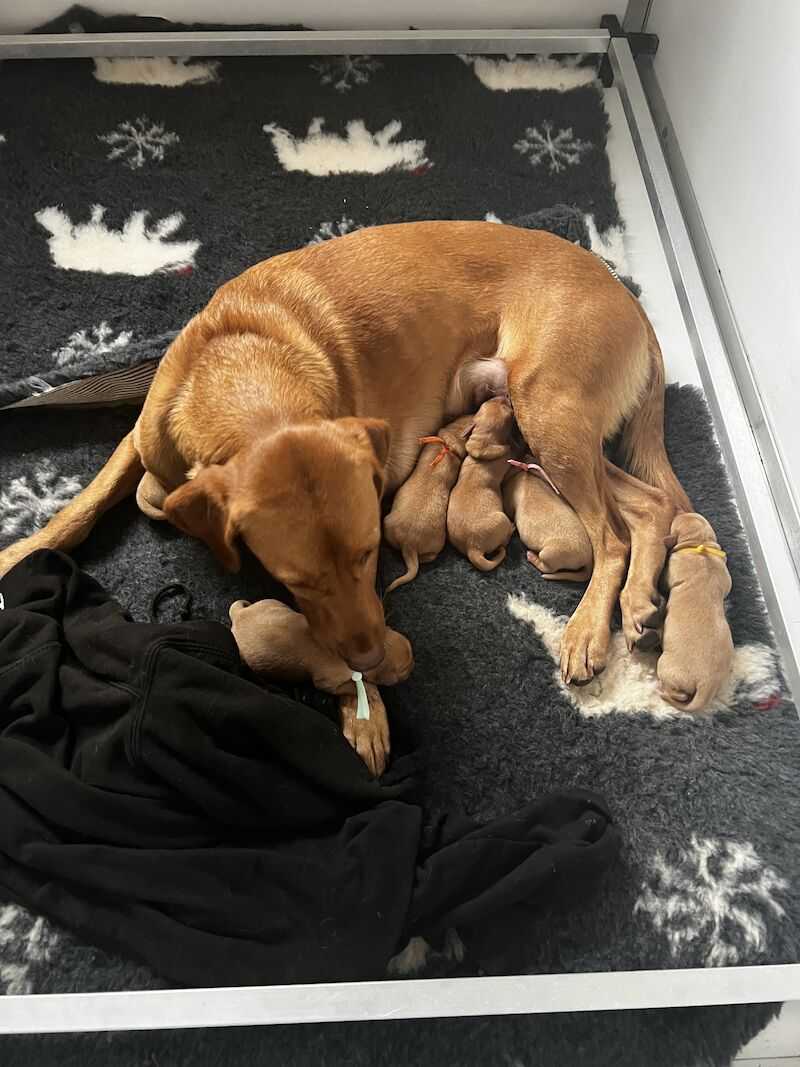 Save
Labrador puppies for sale in Durham, County Durham
KC registered Labradors due November 2023
£1,200
Viva has had her first litter of beautiful fox red shade Labradors. 6 in total (4 girls and 2 boys). Viva is a gentle, caring, loyal, biddable fox red shade of yellow Labrador. Viva loves being by the beach, playing in the fields, swimming and having cuddles by the fire. Viva has a heart of gold who loves nothing more than to cuddle up with her head on your leg
Viva only knows a life of living in our family home but does enjoy working with a field trial trainer which keeps her mentally stimulated. Viva has a zest for retrieving and loves to scent find balls and dummies
Viva has excellent hip (0/0= 0) and elbows (0/0 scores (ANKC) with clear eyes (July 2022)
Viva is DNA clear on KC 7
The dad: KC Registered Blackharn Trent, dark fox red shade of yellow.
Trent is Sired by an Open Field trial winner out of a Field trial champion mother.
Trent is an absolute asset to the stud owners working team with his athleticism and excellent game finding ability. Trent is a total gentleman, easy to handle in all ways with an off switch off the shooting field.
1/1 Hips 0/0 Elbows. (Ankc)
Eye test clear, DNA clear KC 7
Trent has been the stud dog to a previous litter of ours whose temperaments are what you would want from a loyal Labrador
The puppies will be registered under The Kennel Club name Woogra and will be raised in our home amongst our family of 9 (5 humans and 4 dogs)
We are giving these puppies the opportunity to have the best start in life. They will be socialised to house noise, children and other dogs. The pups have been introduced to Early Neurological stimulation (ENS) and Early scent Introduction (ESI) and they follow an environment programme to get them accustomed to different sounds and situations.
Viva and Missy compliment each other in looks as well as temperament. Viva loves to be outside, learning new things a and is eager to please. We are certain the characteristics of their parents will be passed onto these pups.
The pups will go to their new families having been microchipped, wormed correctly and regularly, flea treated, vet checked, free insurance for 4 weeks, food, toy, blanket, info pack. KC registration and 5 generation pedigree certificate, comprehensive and informative puppy pack as well as a photo with all their siblings.
We are in regular contact with many owners of dogs from our previous litters (by what's app and puppy groups) and will be more than happy to provide references if required.
It is vitally important to us that puppies go to first class homes so an online questionnaire as well as a phone call will be mandatory.
Please have a look at our social pages Facebook, Instagram and tik tok under the name Woogra dogs (the home of our fox reds)
I am accredited by pupstart breeders (ethical breeder), an ambassador for their puppy pod programme (training and support for your new pup).
I am passionate about what I do and raising the best puppies I can to be in your family homes.
I have completed the OFQAL level 3 in Dog Breeding, Litter Socialisation & Welfare.
CPD accredited in Canine pregnancy and whelping, Puppy socialisation and puppy profiling.
I am passionate about my dogs and that they get to live a happy life alongside their humans. I didn't go into breeding lightly and my aim Is to produce family friendly dogs.
To complete an application please get in contact.
Puppies can be viewed with their mother

It is always adviseable to view a puppy with their mother. This can give you a much better idea of the potential future health and temperament of your pup.

These Puppies are KC registered

A KC registered Labrador is officially recognised by the Kennel Club as being of pure breed and its heritage can be tracked and proven.

These Puppies are 2 weeks old and will be ready to leave on 14th January 2024

Remember that puppies should not leave their mother until at least 8 weeks of age.

2 Males / 2 Female Labradors are available

The seller has indicated that they have 2 Males / 2 Female available. You can View all puppies available in this litter.

The seller is a breeder

These Puppies are being sold by a breeder. They have not indicated that they are a licensed breeder.
Breed

Labrador Retriever

Advert posted

4 weeks ago

Last updated

4 days ago

Location

Durham, County Durham

Current age

2 weeks

Ready to leave

14th January 2024

Seller type

Breeder

Can be viewed with

Mother

KC registered

Yes

Microchipped

Yes

Neutered

No

Vaccinated

Yes

Wormed & flead

Yes
Feeding your Labrador Retriever a healthy diet is important, as well as ensuring they are stimulated both physically & mentally and of course kept clean and safe. View recommended products below and visit our Labrador shop for more.
Labrador Buying Checklist
We highly recommend every buyer reads through the below advice when purchasing or rehoming a Labrador Retriever.
View the animal in the place it was born and raised - check for genuine home environments if buying privately, or the quality of the breeders set-up if applicable.
If viewing a puppy under 6 months, by law they MUST be seen with their mum.
Make sure the animal's old enough to be rehomed. 8 weeks should be the earliest a puppy can be rehomed.
By law, all dogs MUST be microchipped
Avoid Potential Scams
There are a number of red flags to look out for when purchasing a new puppy:
Seller demands a deposit without allowing you to see the dog first - never send any money before meeting the animal in person
Seller is reluctant to send you additional photos or videos
Seller offers to deliver the dog/puppy
Seller asks to meet in a mutual location
Seller uses fake or stolen photos from the internet. Always carry out a "Google image search".
Although we have a number of automated systems in place to prevent scam and fraudulant adverts, these can never be 100% accurate and its important to use caution when buying online. We do not accept any responsibility for transactions between our users, especially when our safe buying advice is not followed.
View the full Labrador buyers checklist for more information, plus the buyers guide for more advice on giving a puppy a new home.